What Buyers Should Know About Staging | Journey Home Lending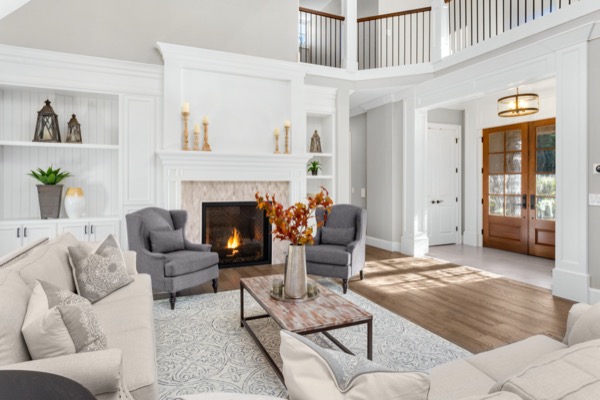 If you've spent any time looking at pictures of homes for sale, going to open house events or even watching home shows on TV, you've seen staging. If it was done well, you didn't even notice you were looking at it, though.
Staging, quite simply, is a bit of marketing used in home sales. It ranges from the simple (putting out some vases of fresh flowers and lighting a candle or two) to the very involved, which might include bringing in a complete house's worth of brand-new furniture.
The intention is to not only make the place look more attractive, but to help potential buyers imagine themselves living in the house. And it's apparently quite effective.
According to the National Association of REALTORS, staging made it easier for 83% of buyers to visualize a property as a future home. And staging was found to increase the dollar value offered for a property by 1 to 5% in a quarter of transactions.
That same study from the REALTORS found that the most-frequently staged rooms are the living room (93%), kitchen (84%), master bedroom (78%) and dining room (72%).
As for the buyers' perspective, staging in the living room (47%) had the most impact, followed closely by the master bedroom (42%), with the kitchen in third at 35%.
Staging is sometimes used to cover up or distract from issues with the property.
Attention may be drawn away from a water stain on the ceiling by making that area of the room darker. Floor damage may be covered by a rug or by moving a piece of furniture over it. Some damage may be painted over or otherwise creatively hidden.
Make sure you give the place a thorough looking-over, and don't be afraid to bring a flashlight and move rugs to ensure you're seeing the whole picture. Don't be deterred if you get judgmental looks from the sellers' agent; this is a big investment you're considering and you want to make sure you're getting a good deal.
If you're buying with a good agent, he or she will pay attention to these known problem areas and point them out, and may even bring a flashlight of her or his own.
Remember: Staging is meant to convince you to buy the property and maybe even pay more than you otherwise would for it. Also, while some people do the work themselves, others hire outside firms or pay sellers' agents to get a house in tip-top shape for showings, which means they're paying a fee they're likely to pass on to you in the sale cost.
So, unless this is your "gotta have it, can't live without it" house and you know there will be a lot of other buyers making offers, take your agent's advice on what you should offer so you aren't blinded by the stage!
If you're ready to make the move to homeownership or to move out of your for-now house to your dream house, Journey Home Lending is here to help!